Telescopes
Just A Few Of
The Meade Line
Of Telescopes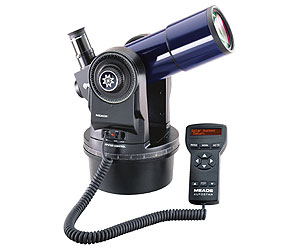 Meade ETX70
The Meade ETX70 is not your average department store telescope it comes with a wealth of features. Dispite it's small size the ETX70 delivers wonderful images for the dollar. Its coated optics correct distortions in the image you view, and one of the two included eyepieces offer decent magnification. The ETX70 is with the "Autostar" system which gives the scope full automatic go-to and tracking ability. It now includes a sturdy aluminum tripod with accsessory rack. And best of all it is extremely portable and lightweight. The ETX70 is a good starting point at under $300.
Meade 152ED
Refractor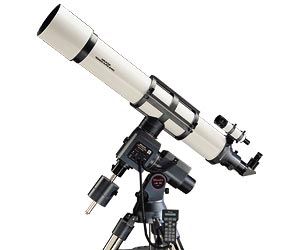 The Meade 152ED is at the other end of the price spectrum. While Meade had many refractors between the price range of the ETX70 and the 152ED and just one more expensive the 152ED is the only telescope many amatuers will ever need. At a full 6" apeture the 152ED will deliver excellent images right down to the Great Red Spot on Jupiter. With over 60,000 objects stored in its memory you can move around the cosmos with relative ease. This scope is fully capable of using a 35mm camera body or CCD imaging system for astrophotography. Just remember that the 152ED is for the serious amatuer and the beginner should start with something a little less expensive for something that may be just a passing fancy.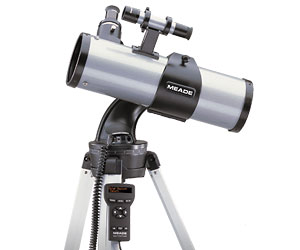 Meade DS-2114 ATS
This is probably the best reflector for the beginner. With a relatively low cost at $399, the DS-2114ATS has some great features. A large 114mm main mirror provides 265% more light gathering abilities than the ETX70. It's "Autostar" controller stores a choice of 1,400 objects. Auto go-to and tracking abilities keep you from having to manually track an object across the sky. And the purchase price also includes a sturdy tripod. The
DS-2114ATS makes a wonderful choice for the beginner.
Meade 12.5" Dobsonian
Starfinder Deluxe
Telescope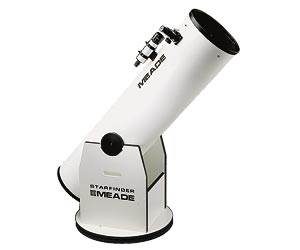 Meade Starfinder Dobsonian Telescopes are the optical equivalents of their Equatorial counterparts, but significant differences remain. For instance, while Dobsonians are designed exclusively for visual observing as opposed to astrophotography, they offer the user a larger aperture-per-dollar-of-cost due to their simple mounting design. However, Dobsonians display the same optical systems and high level of high image quality as Equatorials, providing remarkable viewing opportunities of astronomical subjects. The large main mirror delivers the ability to see objects as dim as magnitude 15! The only drawback is the mount does not allow for slow-motion tracking and is NOT suitable for astrophotography. While remaining portable to a degree it is not as easy to move as some smaller scopes. But you can add computer controllers which aide in locating objects. At a cost of just under $1000 the 12.5" Dobsonian Starfinder is a excellent observation scope at an affordable price.
Software
Great for anyone intrested in astronomy! This software can let you explore the cosmos whenever you want even on a cloudy night. I myself downloaded the free 15 day trial version and plan to purchase the the regular version as well and you will want to as well once you try out this program. You can look at the sky from anywhere in the world and tranport yourself through the heavens to worlds far, far away. The software is compatible with seti@home and has direct links to intresting things to see and do from space.com! There is just too many features for me to list just try the download yourself by going to the following link: